April 24, 2021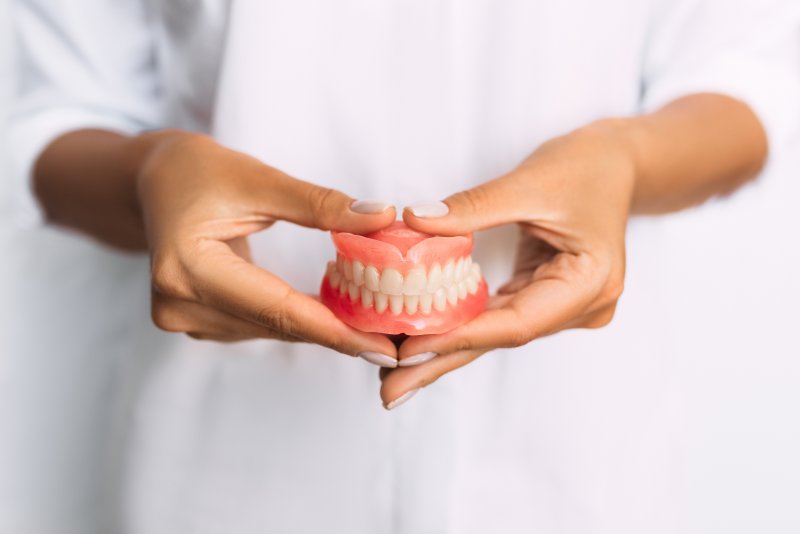 Tooth loss is a devastating reality for many people. According to the American College of Prosthodontists, nearly 120 million people are missing at least one permanent tooth, and roughly 36 million Americans no longer have any teeth at all. Effecting your ability to eat and speak, you may feel as if the smile you donned in your 30s and 40s is no longer possible unless you opt for a traditional solution like dentures. But can these prosthetics fulfill all your needs? In this article, a local dentist will shed light on the truths associated with dentures in Collegeville as well as explain why dental implants are considered the gold standard for tooth replacement and jawbone preservation.
America's Go-To Solution: The Truth Behind Dentures
For centuries, dentures have served as the go-to option for patients suffering from tooth loss. Even our country's first president, George Washington, donned a pair made out of various materials including lead, gold, ivory, bone, and human teeth. Fortunately, advancements in dentistry have allowed these prosthetics to change drastically over the years, offering materials that are more durable and natural in appearance. However, as aesthetically pleasing as dentures might be, they still leave much to be desired. Yes, they are a more affordable option for individuals suffering from tooth loss, but they still struggle in many areas, such as:
Accidental slippage while eating or speaking
Only relying on your natural suction to remain firmly in place
Often requiring dental adhesives to give added security
Frequent adjustments and replacements needed every 5-7 years
Providing no stimulation to the jawbone, causing changes to facial shape to occur over the years
A New Form of Tooth Replacement: The Benefits of Dental Implants
While you may still be tempted to choose traditional dentures to replace your missing teeth, it's important that you consider all your options. Many dentists are turning to an alternative option that is proving effective when it comes to improving oral health, functionality, stability, and longevity – dental implants in Collegeville. Considered far superior to traditional solutions, these permanent prosthetics are surgically placed into your jawbone and fuse with it and the surrounding tissues to create a solid and stable foundation for your customized denture. Mimicking the natural tooth structure from root to crown, dental implants can do one thing no other tooth replacement can, which is to provide continuous jawbone stimulation. This unique benefit makes it possible for you to enjoy a fuller, more youthful appearance for longer because of the increased density within the jawbone. But that's not the only reason to choose dental implants. They can also:
Last a lifetime with proper care and maintenance
Provide a stronger bite force and chewing power, making it possible to eat all your favorite foods
Allow for greater confidence when socializing with others
Maintain a high success rate of placement at 90-95% after 10 years
Provide a beautiful, natural appearance
There's no question that when it comes to choosing between these two options, the clear winner is dental implants. From a healthier jawbone to a longer-lasting smile, you'll fully embrace a better quality of life as a result of your permanent prosthetics.
About the Author
Dr. Bradford Plasha is a trusted dentist in Collegeville who followed in his family's footsteps and pursued dentistry in college. Earning his dental education at the Rutgers School of Dental Medicine, he also completed an externship in prosthodontics. With extensive training in dental implant dentistry, he is currently a Fellow in the International Dental Implant Association. Committed to learning new techniques and technologies to benefit his patients, Dr. Plasha and his team at The Dental Spot are here to restore smiles affected by tooth loss. Offering dental implants for a more permanent tooth replacement solution, he can help you take back your oral health and confidence. If you're ready to learn more about the benefits of dental implants, visit our website or call (484) 854-6900.
Comments Off

on Dentures or Dental Implants: Which is Best for Jawbone Preservation?
No Comments
No comments yet.
RSS feed for comments on this post.
Sorry, the comment form is closed at this time.