Dentures – Collegeville, PA
Trusted Prosthetics for a More Beautiful Smile
At The Dental Spot, Dr. Plasha and our team understand the difficulties that come with tooth loss. Eating, speaking, and just living life can prove troublesome and even embarrassing, especially when surrounded by family or friends. Fortunately, there is a solution that offers renewed confidence and a natural, beautiful aesthetic – dentures in Collegeville. These tried-and-true solutions have been around for centuries, and because of advancements in dentistry, they are now more reliable and stable than ever before. If you are looking to restore your smile with the help of dentures, contact us today to schedule an appointment.
Why Choose The Dental Spot for Dentures?
High-Quality Materials Used to Ensure Natural Aesthetics
Trusted Professional with Years of Clinical Experience
Dental Insurance Accepted and Financing Available
Who is a Good Candidate for Dentures?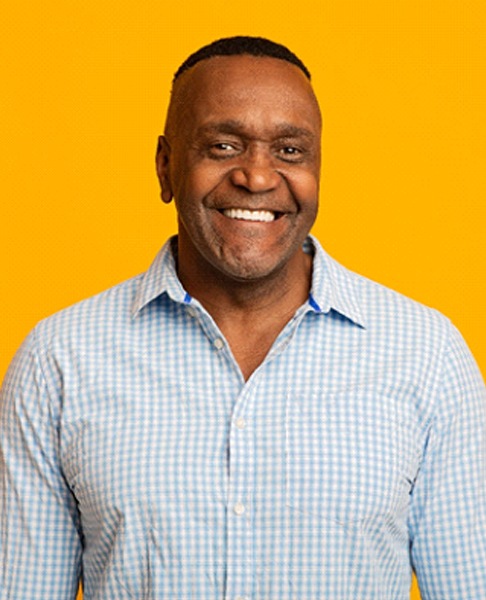 If you are suffering from tooth loss, we want to help. Your inability to eat your favorite foods, difficulty speaking clearly, and embarrassment when forced to socialize with others can take their toll on your mental and emotional health. The good news is that these feelings do not have to be permanent. Instead, you can opt for dentures and live life to the fullest.
During a consultation with Dr. Plasha, he will examine your oral cavity to determine the extent of your tooth loss. If you are only missing a few teeth, you might consider an alternative option; however, if all your teeth are missing from the top or bottom arch and you possess healthy gum tissue, you will likely be eligible to receive dentures.
What Are the Different Types of Dentures?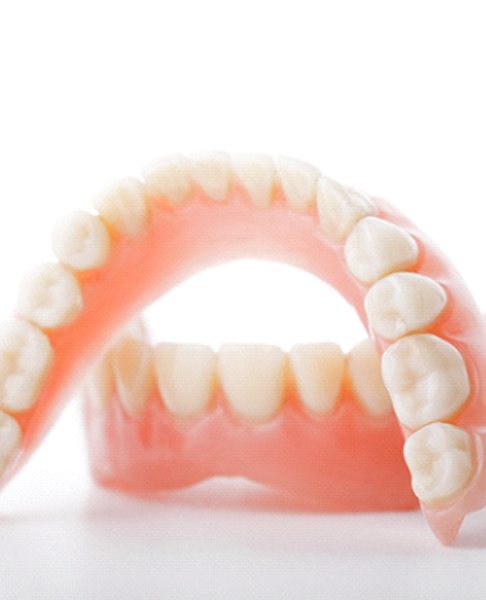 The only way to know which type of denture is best for your individual needs is to schedule a consultation with your dentist in Collegeville. During this visit, he will go over the three different types of dentures to choose from:
Partial Dentures
When large gaps exist between teeth, you may notice you have trouble eating and speaking because of the inconsistency in your bite. Nothing seems to work in harmony together when multiple teeth are missing, but this can be fixed with a partial denture. Created using a gum-colored, acrylic base, artificial teeth made of ceramic will fit properly along the prosthetic to strategically fit into place like a puzzle piece. Metal clasps will attach to your natural teeth to help hold them in place.
Full Dentures
If all your teeth are missing along the top or bottom row, a similar prosthetic will be created; however, it will not contain metal clasps to hold it in place. Instead, the same gum-colored, acrylic base will be crafted to hold an entire row of artificial ceramic teeth. Fabricated according to the dimensions of your arch, it will sit on top of your gums and require your natural suction to hold it in place. Dr. Plasha will make any necessary adjustments to ensure it fits comfortably when place on top of your gums.
Implant Dentures
If you are like some who prefer a more permanent tooth replacement solution, implant dentures are a possible option. Requiring ample bone to support the implants and customized denture, your dentist will surgically place between 4 and 6 titanium posts into your jawbone before requiring that you recover for several months. After you are fully healed, you will then receive your customized denture that can be permanent or removable based on your individual preferences. By choosing implant dentures, you'll not only notice greater stability and functionality when eating and speaking, but you'll also enjoy better oral health because of the continuous stimulation delivered to your jawbone.
Benefits of Dentures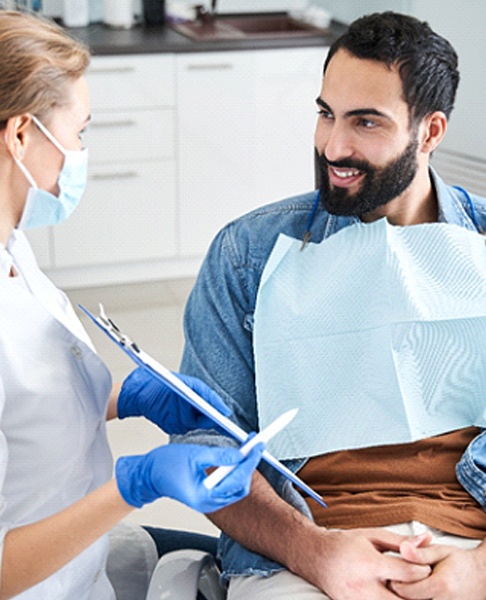 One important fact that is often overlooked when receiving dentures is that much care is taken to craft a customized prosthetic that fits comfortably and looks completely natural. Your dentist in Collegeville will go the extra mile to ensure you are happy with your final results, making any necessary adjustments to make sure your new smile looks as good as it feels.
By choosing dentures, you can also expect to enjoy these great benefits:
A more affordable, budget-friendly option that is often partially covered by dental insurance
The chance to enjoy a more youthful appearance because of your dentures ability to fill out your cheeks and minimize the potential for a "hollowed" look
The opportunity to eat a more nutritious diet that will help to improve your overall health
A more natural and aesthetically pleasing appearance
Understanding the Cost of Dentures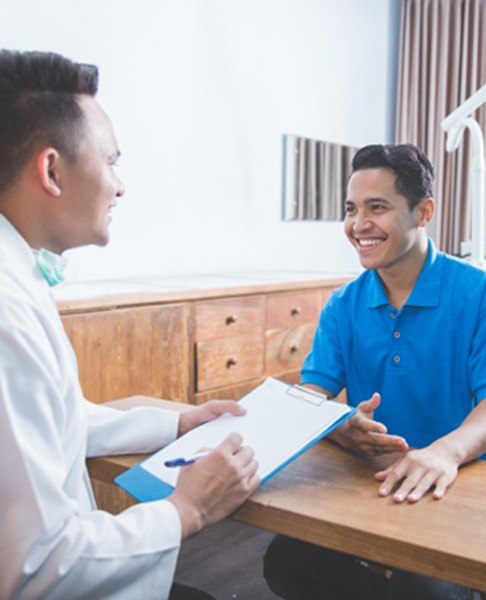 If you have missing teeth, you know from experience how much it can affect your overall quality of life. Fortunately, dentures in Collegeville allow you to enjoy a strong and healthy smile once again. Before moving forward with the process, you likely want to know how much it'll cost. Since every case is unique, it's impossible to provide an accurate price estimate until you come in for a consultation. Rest assured – our team will thoroughly explain the pricing information to ensure you know what to expect every step of the way.
Factors that Affect the Cost of Dentures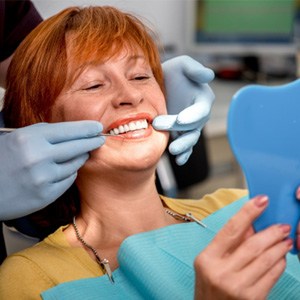 Many factors influence the overall cost of dentures in Collegeville. Three major ones are:
Any preliminary treatment needed beforehand (i.e., tooth extractions, gum disease therapy, etc.)
Number of teeth you're missing
Materials your denture will be made of (i.e., porcelain or acrylic)
Patients on a budget may be tempted to opt for a cheaper denture. However, that's not necessarily ideal. Affordable prosthetics tend to break easily and will require a replacement much sooner than anticipated. When it comes to dentistry, it's always best to invest in high-quality work and get your money's worth!
Are Implant Dentures More Expensive?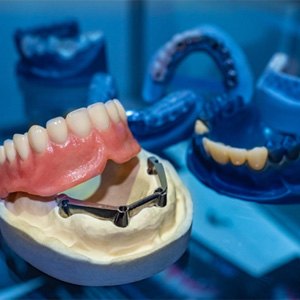 Since implant dentures require oral surgery and the placement of multiple dental implants, they're typically more expensive than traditional dentures. Of course, many people find them to be worth the investment. Because of their unique placement inside the jawbone, implant dentures are far more reliable for day-to-day use. They stay firmly in place and will help stimulate the jawbone, providing you with increased biting strength and longevity. Another significant benefit is that implant dentures can last decades without needing replacement, unlike traditional ones.
Does Dental Insurance Cover Dentures?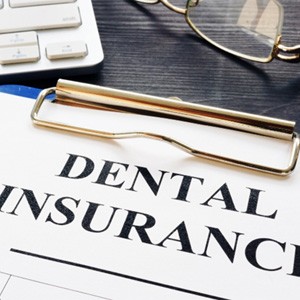 You'll be happy to know that most dental insurance plans do offer coverage for dentures in Collegeville. They're considered a major procedure, which is why they're eligible for up to 50% of coverage. Of course, every policy is unique, meaning the exact percentage can vary from person to person. Make sure you confirm the details of your benefits with your insurance provider before committing to anything.
Other Options for Making Dentures Affordable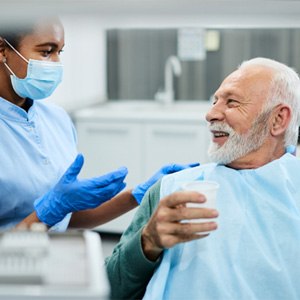 Don't have dental insurance? We offer additional financing options to help make your treatment as affordable as possible! Some of those include:
In-House Membership Plan – For an annual fee, you can get the preventive care you need and enjoy sizeable discounts on other treatments. You're able to have the benefits of traditional insurance without the red tape!
CareCredit Financing – This option allows you to split up the total cost of your treatment into smaller monthly installments. Best of all, most plans come with little-to-no interest attached!
Dentures FAQs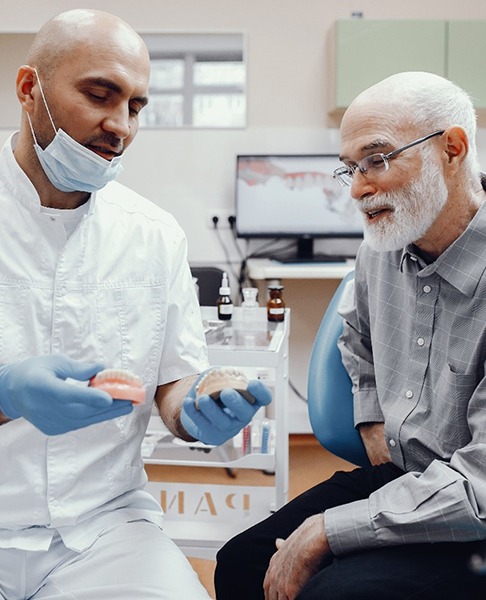 When learning if you are eligible to receive dentures in Collegeville, there is a good chance you have many questions about the process. At The Dental Spot, Dr. Plasha and our team want you to feel confident and comfortable in your decision to choose this tried-and-true restorative solution. Dentures have been around for centuries helping people achieve new and improved smiles, but we understand you may want clarification about certain aspects of treatment so you can make the right decision for your dental health. Below you will find a list of questions to review. If you need additional assistance or would like to meet with Dr. Plasha to discuss your concerns, contact us to schedule an appointment.
How long will you have to wait to get dentures after your teeth are pulled?
On average, it is recommended that you wait at least 6-8 weeks to receive your customized denture after having your teeth removed. The reason for this is to let your gums fully heal. It also helps to ensure that your denture will fit properly when put into place. While it is possible to receive immediate dentures the same day of your extraction, there is the chance that your gums and bone will change over time, causing your new teeth to fit poorly as your mouth begins to heal. If implant dentures are what you are waiting to receive, you will need to spend 4-6 months healing at home to allow your implants to fuse with your bone and surrounding tissues before receiving your final restoration.
Can I sleep with my dentures?
Although it is possible to keep your dentures in while sleeping, it is strongly discouraged and here's why: Dentures sit on top of the gums and can cause restriction. Over time, your soft oral tissues can become irritated, resulting in oral sores, discomfort, and ridge resorption. By removing your dentures at night, you are giving your gums and bone a chance to breathe and recover. Not to mention, they retrieve the nutrients needed throughout the night.
Bacteria can also gather underneath your denture, so if you are continuing to sleep with them, you are putting yourself at greater risk for pneumonia. You may also be less likely to perform a regular dental hygiene routine if you do not take out your dentures before bed, resulting in increasing oral health problems over time.
Will it hurt to get dentures?
It is not uncommon to experience some slight discomfort in the days after receiving your dentures. Because they are a foreign object in your mouth, your tongue, jaw, bone, and remaining teeth will need to adjust. This can take time and cause some minor irritation to occur. Fortunately, this should only be temporary, but each person can experience a different level of discomfort, so it's important not to base your situation on another individual. New dentures can often require more of an adjustment period, but if the pain you're experiencing lasts too long, it's best to call our office. Your denture dentist in Collegeville can examine your denture and oral cavity to determine if your prosthetic is fitting properly or if you need treatment for an underlying issue.
What can't you eat with dentures?
Although you will regain some of your original bite force, eating with dentures will require making a few changes. It's best to stay away from sticky foods like caramel, peanut butter, and gummy candies because they can pull your dentures out of place, resulting in food particles becoming trapped beneath your denture and causing irritation. You'll also need to avoid nuts, popcorn, carrot sticks, apples, and other hard foods because they can damage your new teeth. It's also advised that you avoid:
Tough meats
Popcorn kernels
Shelled nuts
Sesame seeds
Other small foods that can become stuck in and around your dentures and cause damage